The much anticipated meeting between US President, Donald Trump and North Krea's leader Kim Jong-un has held peacefully. Trump was quoted as saying the meeting 'it's an honor' that he expects will blossom into 'a terrific relationship' with the longtime U.S. antagonist.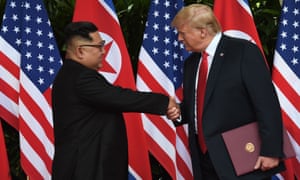 He also told reporters after a working lunch that he had a 'really fantastic meeting' with Kim and that he believes was 'really, very positive. I think, better than anybody could have expected, top of the line, really good. We're going right now for a signing,' he said.
Trump and Kim began the summit with a hearty handshake, exchanging pleasantries for the cameras and meeting one-on-one for 38 minutes with only translators present while the world watched with anticipation as the first-ever meeting between a U.S. president and a North Korean leader unfolded.
Trump and Kim signed a document pledging to work toward complete denuclearisation of the Korean peninsula, though Trump says sanctions on North Korea will remain in place until the regime's nukes are no longer a factor. Speaking to the media in Singapore after his face-to-face talks with leader Kim Jong-un, Mr Trump said the North had already destroyed a major missile engine testing site.
"There is no limit to what North Korea can achieve when it gives up its nuclear weapons and embraces commerce and engages with the rest of the world that wants to engage," Mr Trump said.

"Chairman Kim has before him an opportunity like no other to be remembered as the leader who ushered in a glorious new era of security and prosperity for his people.
Here is that letter, have a read. pic.twitter.com/uYYq4xBLzy

— Kirsty Needham (@KirstyLNeedham) June 12, 2018